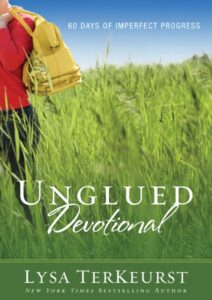 Unglued Devotional
Solid Rock Church Women's Online Devotional
As we start 2022… I have been praying about a daily devotional we can share together… my heart, as most of do, is reflecting on last year and what I can do better this year…. We all can grow in every area especially in Christ likeness …. Our ultimate goal is to carry His Glory and shine it to our sphere of influence, our world that God has entrusted to us… so that those around us including strangers will come to know Him… God… His Son Jesus… and receive salvation!! Be filled with His Holy Spirit… I believe this devotion deals with us as individuals so we can grow ourselves and not be trapped in the past failures of our mistakes as imperfect humans…. It is also will be a place we can share with one another and encourage Each other!
I felt this is a way we can connect and grow the beginning of this year and Holy Spirit is speaking to me about another class in the spring… The devotion is called Unglued by Lisa Terkeurst. There is a companion book but we will focus on the devotion… I will let you seek out your own devotion UNLESS you want me to order for you… just let me know!! -Angie Reynolds
If you are interested, please click the picture and fill out the information by Tuesday, February 1st.
Connect through Fellowship and Discipleship
Women's Ministries at Solid Rock is a place for women of all ages to connect and serve.
In the spring and fall, ministry retreats are wonderful opportunities for connecting and becoming refreshed in the presence of God through discipleship and worship.
Each month a planning committee meets to discuss up coming ministry events and projects. Projects that are planned help support outreach ministries that are an extension of Solid Rock Church and also provide time for fellowship for the women involved in serving.
Throughout the year events are planned to provide fellowship and fun! Brunches, lunches, or latte's, we are women enjoying, supporting and learning from one another and growing together In God.